Accessories can improve the comfort levels in your home even more, and in some cases allow you to expand the functions of your existing WaterFurnace system.
Symphony Home Comfort Platform
Everything in harmony
Imagine a platform that can provide detailed feedback of your comfort system in real-time and the tools to control it all from any web-enabled smart phone, tablet, or computer.
That's Symphony.
Symphony is a Wi-Fi based comfort platform that's unsurpassed in its ease of use, feature set and the level of information it provides. Symphony marries the Aurora controls of a WaterFurnace geothermal system with our WebLink router, giving you access to the comfort system from practically anywhere. Symphony is cloud-based so there's no software to install and provides control over the entire geothermal system-not just the temperature as in other 'smart thermostat' systems.
Energy Monitoring
Symphony gives you the power to monitor and track your unit's energy use instantaneously or as a daily, weekly or 13-month history. The personalized dashboard provides quick access to your system.
Peace of Mind
Symphony can provide equipment alerts and service reminders and notifications to you and your contractor. A service tech can log into your system to view faults, operating conditions remotely.
Aurora WebLink
The Aurora WebLink router communicates directly with our Aurora control board rather than simply connecting to the thermostat. This provides you and your dealer with access to unit sensors, energy use and system information rather than the limited information a typical thermostat sees.
Monitor a second home
Symphony has the capability to monitor multiple units in multiple locations. This means you can monitor a second home and its local surrounding weather from miles away. Symphony can even send a notification to you when power is off at the home.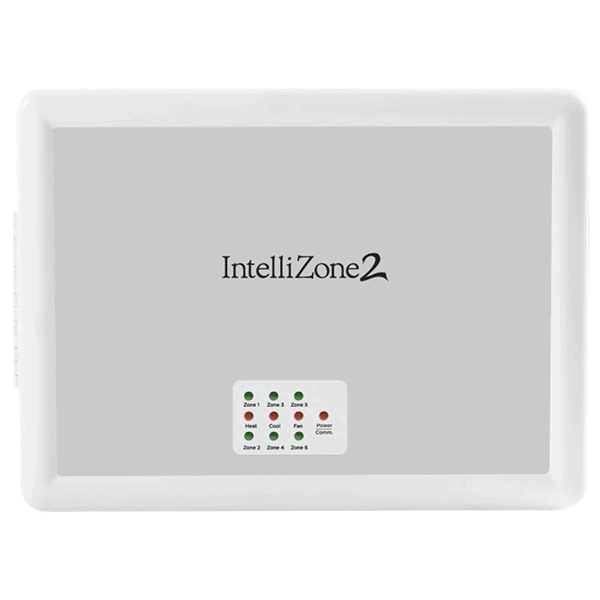 IntelliZone2

Advanced Zoning System

WaterFurnace is the only geothermal company to offer our own residential zoning system — the IntelliZone2. The IntelliZone2 works in unison with our Aurora controls to provide the perfect temperature in up to six separate rooms. When added to our ground source heat pump systems, you'll enjoy the highest level of comfort and savings available today.
Up to 6 Zones

Now you can precisely regulate temperatures in multiple areas of your home using separate thermostats or sensors. Gone are the days of needing to endure a hot upstairs bedroom or being forced to heat a guest bedroom that's only used during the holidays.
Aurora controls

Aurora controls allow the IntelliZone2 to communicate with the WaterFurnace system to control the zone temperatures. And all the advanced features of our systems are fully supported in the IntelliZone2 including energy monitoring, plain-English error communication, and Active Dehumidification.
Variable Capacity Technology

The IntelliZone2 is the only residential zoning system capable of mating to variable speed compressors. It was engineered specifically to control the variable capacity technology of the WaterFurnace 7 Series for up to six zones of comfort and control you have to experience to believe.
Energy Monitoring

Units with Aurora Advanced Controls provide support for precise energy monitoring. Gain insight by monitoring monthly, weekly or daily analysis of your unit's energy usage.
Features

Made In House: IntelliZone2 was engineered by WaterFurnace to control WaterFurnace equipment.
Touch-Screen Control: Unique among zoning systems, IntelliZone2 is controlled from a beautiful color touch-screen thermostat. Its 4.3" display can be customized with images like family photos.
IntelliZone2 24V: Use the 24V option for any WaterFurnace system not equipped with Aurora Advanced (AXB) Controls such as the 3 Series 300A11 or Synergy3D.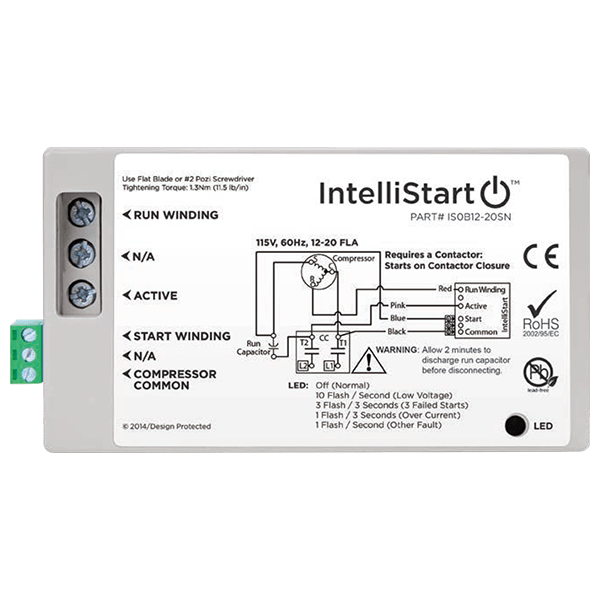 IntelliStart
The IntelliStart component preserves the life of your compressor, reduces light flicker, and significantly diminishes start-up noise from your unit by reducing the start-up current to just 30% of normal starting amperage. This soft starter also makes it easier to implement a back-up generator or to go "off-grid" with technologies like solar or wind.
Your geothermal system is an important investment, and you want it to last as long as it possibly can. What if there was a way to preserve the life of its compressor, reduce light flicker, and significantly diminish start-up sound from your unit? The WaterFurnace IntelliStart system will do all of this as well as make it easier to go "off-grid."
As a compressor starts, it draws 5 to 10 times the amount of current it normally requires to run. This demand is called Locked Rotor Amps (LRA). The inrush of current and sudden startup can be stressful to the compressor and some electrical components. An IntelliStart system allows the unit to start using only 30% of normal amperage – far lower than other soft start solutions. You'll reduce wear and tear on your compressor and protect it from potentially damaging low-voltage sags. Light flicker associated with your unit will be a thing of the past, and you'll have a quieter system thanks to greatly diminished start-up sound.
The IntelliStart system also makes it easier to implement a backup generator or off-the-grid power technologies like Solar PV and Wind. Many homeowners (and even some utilities) are forced to implement oversized electric generation systems to satisfy the momentary spike of starting amperage for HVAC equipment like furnace fans, air conditioners, heat pumps, and geothermal units. With IntelliStart, you'll drastically reduce that demand and save money on standby generators and power generation infrastructure.
Features
Soft Starter: Reduced light flicker and diminished start-up sound provide a quieter unit.
Voltage Protection: IntelliStart will protect the compressor from potentially damaging low-voltage sags.
Renewable Power: Implement off-the-grid power technologies like Solar PV and Wind more easily.
Easy Installation: Available as a field retrofit kit or as a factory-installed option on most of our residential units.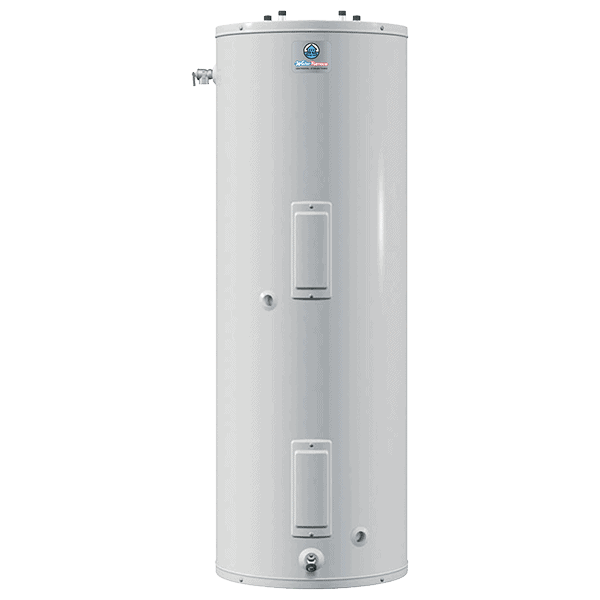 GeoTank
The WaterFurnace storage tank is designed to capture and store the preheated hot water generated by your ground source heat pump. It's engineered specifically for geothermal applications and includes unique features that make installation and operation easy. Large water connections, premium insulation, built-in temperature sensors, and chilled water capabilities make this tank the perfect fit for your geothermal system.